The Gist

Saturday
May 30, 2020
The 18th annual 50-mile Rainier to Ruston Rail-Trail Relay.

Runners enjoy the journey from the majestic base of Mount Rainier to the stunning waterfront of Tacoma on Ruston Way. You're invited to celebrate National Trails Day* with us! Relay runners will commemorate the old railroad by passing through bell stands in each town along the way to the sea. Runners will traverse gorgeous forests, pass through historic Washington towns and cites, finishing the run along a beautiful waterfront park with a view of Mt. Rainier. The downhill course is a runners dream. We look forward to having you join us!
Run for the trails, stay for the party!
If you didn't already know, the race supports the non-profit Foothills Rails to Trails Coalition. The board is a dedicated group who uses all proceeds to purchase and maintain the very non-motorized trail system that you run on for public use.
We need your support by participating in this iconic run!
Relay teams start near the Carbon River entrance to Mt. Rainier National Park and finish at Marine Park on Tacoma's Ruston Way. The course passes through deep forests, alongside rushing rivers and streams and through historic towns. It uses the paved Foothills Trail to the extent possible (45%) and roads (16%), sidewalks (10%) and rough trails (29%) when not. Each leg is described in the Leg Chart and Course Conditions in the Course Manual.
Celebrate your team's 50-mile finish by enjoying a fresh, hot grilled cheese sandwich and a cold beer! Silver City Brewery will host the beer garden again this year! Each runner who wishes will receive a beer at the finish line!
Runners are on a special list and will need their ID's.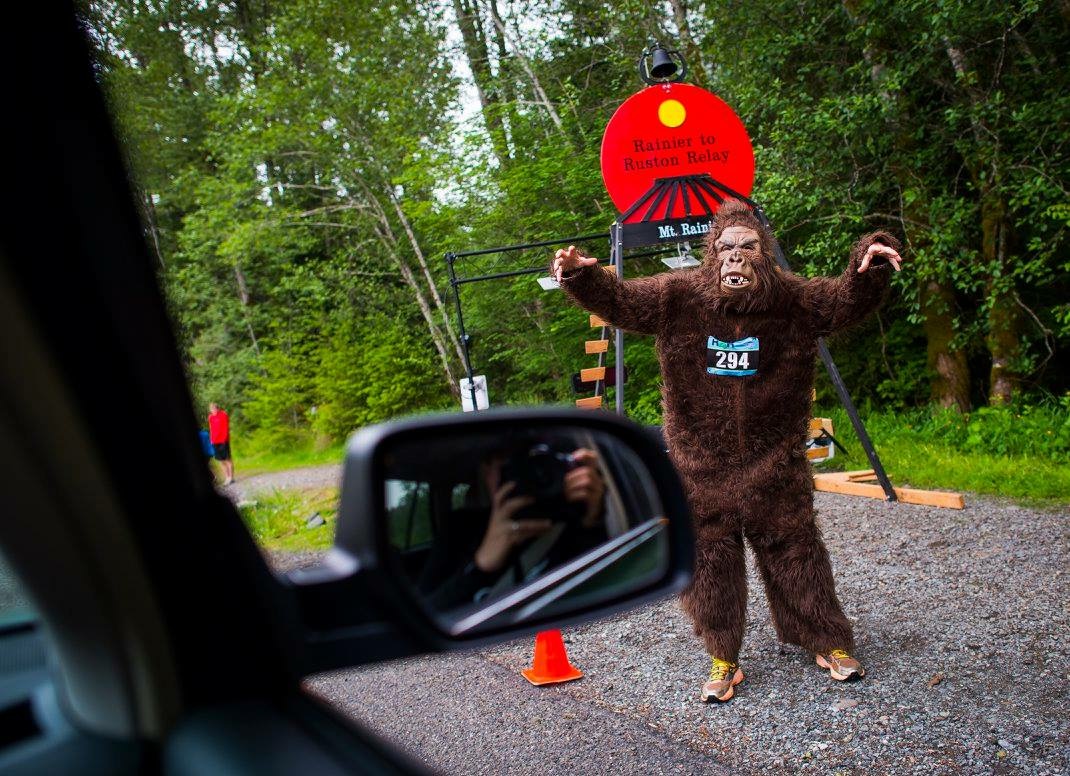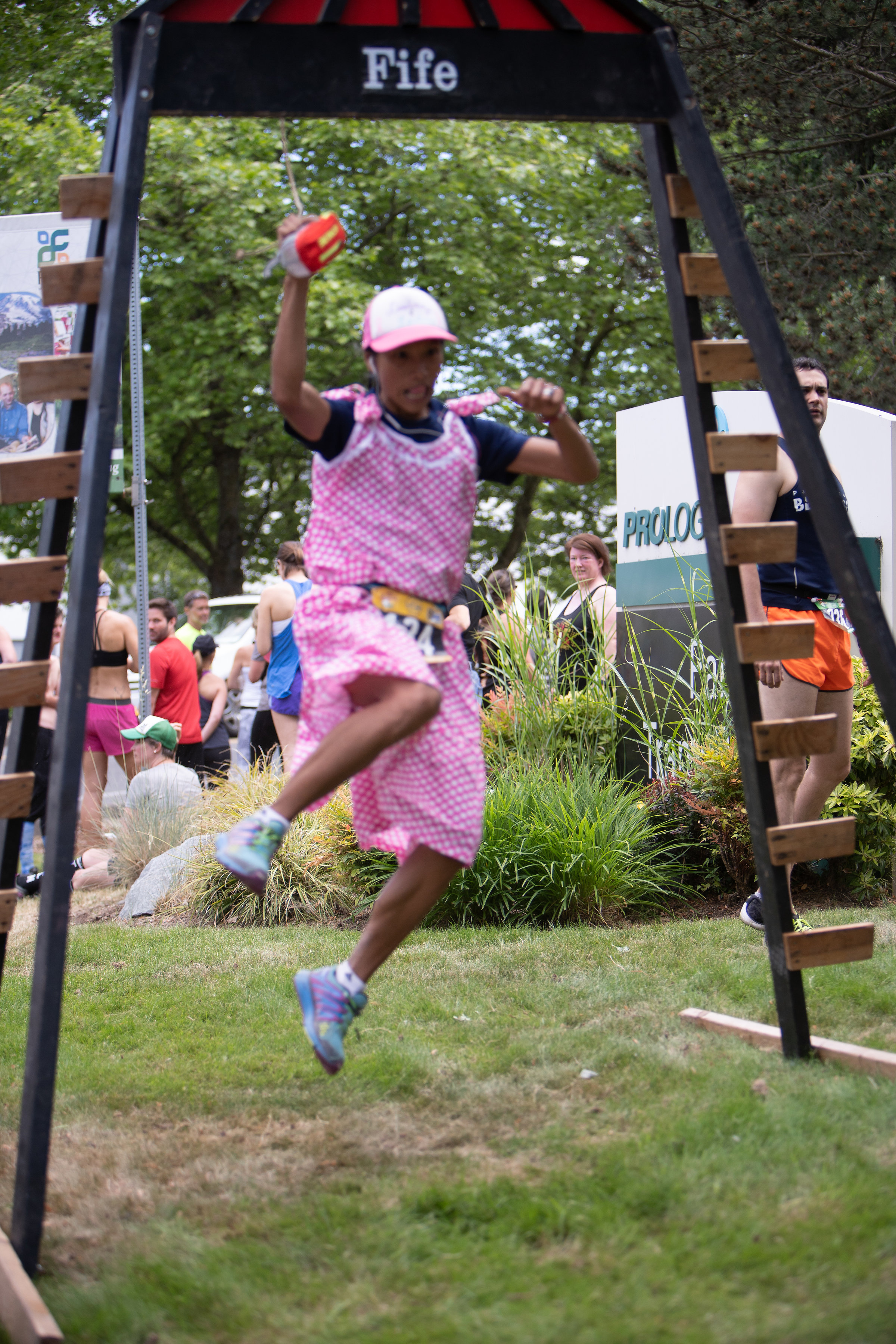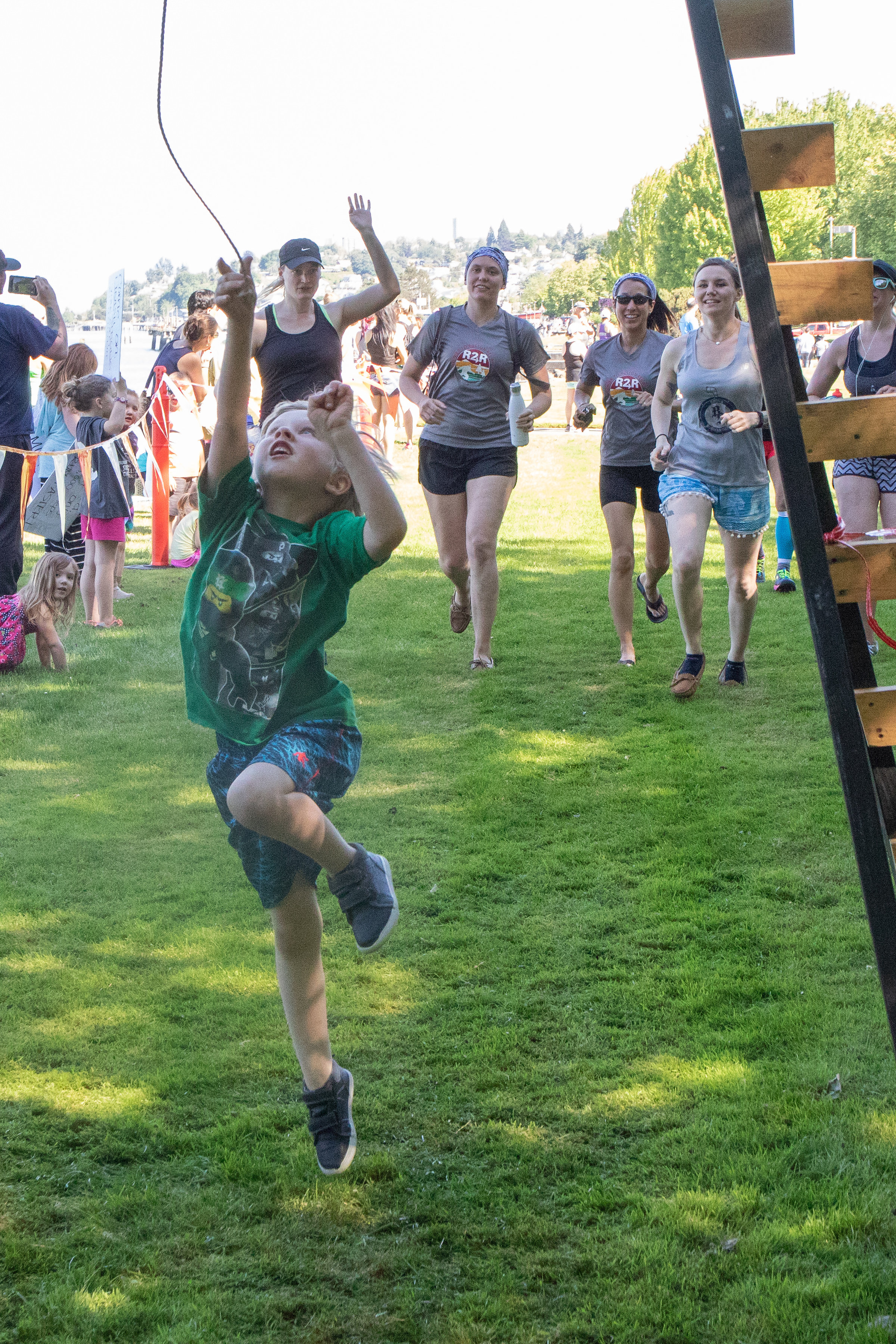 Many ways to participate
Runners tackle the course as a relay, dividing the 12 legs (each approximately three to six miles) among teams of 2, 3, 4 or 6 runners.

Teams compete in several divisions and catagories for awards.

Complete 50 miles solo! See registration page for special details for you solo crazies!!
We distribute teams evenly across five wave starts in order to minimize the congestion of support vehicles at the upper exchanges. It also means that more teams arrive at the finish area between 3 and 5 pm. Please estimate the average pace of your team as accurately as possible. Use this EXCEL spreadsheet to predict and later record your runners' arrival times and splits. We stage the course based on your entered times, so please be considerate and accurate so that we can properly support you runners.
How Does A Relay Work?
If you've never done a relay before, here's how it works:
All team members ride to the start together in their support vehicle and cheer their 1st team member as they begin leg 1. Somewhere along the way, they often find a place to wait for their teammate and offer water and moral support as they pass by. Then they drive to the exchange at the beginning of leg 2, where they review the course map with their next team member. After the handoff, they repeat the process to the finish. If there are more legs than there are positions on the team, then everyone gets to rotate through it again, e.g. the members of a 4-position team each run three times through all twelve legs. It's amazing how energizing a relay is, even among members of a purely recreational or non-competitive team. You cannot help but challenge yourself to do your best. And the camaraderie that develops is great fun.
Please note:
*No vehicles 80" or wider, or longer than 20'. No motor homes, buses or limos are allowed on the course by any team or team support. Rent your support van from Enterprise Rent-A-Car and use code L450081 when booking. They give the Foothills Trail Coalition a discount!
*Any teams starting in the wrong wave will not be eligible for awards. Teams finishing ahead of wave minimum finish times will be disqualified (Wave A min finish 8.5 hours, Wave B 7.5 hours, Wave C 7 hours). Finish line opens at 2:00 PM.
*Award categories: Mixed Open, Male Open, Female Open
*Gold RR spikes for first, silver for seconds and bronze for 3rd places
*Relay Teams of 2, 3, 4, or 6 runners
*All finishers will receive a tech shirt and medal.
*Relay racers are expected to bring their own food and hydration.
*Relay teams: Use this EXCEL spreadsheet to predict your exchange times and splits.

EARLY PACKET PICKUP is Strongly Encouraged.
When: Friday, May 29th - 11AM to 7PM
Where: Super Studios 253 - 915 Pacific Ave, Tacoma, WA 98402
To avoid congestion, only one person from each team needs to come to packet pick-up and can pick-up bibs and shirts for all team members. Please come prepared with your team name and Bib Number. We will release the team name and bib list the week of the race.
YES, you can get checked in before the start on race morning, but be prepared for lines and chaos added to the already hectic day.
Please see the Race Day tab.
***2020 Course Maps will be posted closer to the event date. Below are the 2019 maps***
Click here for GPS Coordinates of each Bell Stand


Click on the relay maps below for maps of the individual legs, including descriptions of the course for the runners and driving routes for the support vans. Changes to some of these maps have been made as recently as 5/23, so if you have already printed your maps, check the date on the bottom of each map to see if you have the most recent version.

This Excel spreadsheet can be used to calculate approximate arrival times for your runners on each leg. A description of each leg can be found in the Leg Chart and Course Conditions in the Course Manual.
Parking on Ruston Way on a Saturday in June can be a challenge. Get creative arrive early and be prepared to walk a little, but cheer on the runners as the adventure continues!
We are proud to be a City of Tacoma certified Green Excellence Event. We are doing our part to minimize trash and keep the race green! Please respect our trails and city and ensure no trash is left on the course or the trails! ag